If you're making a brand, you'll definitely need nice product images. There are 2 ways you can do this.
You can make your product, and go have pictures taken both with and without models. This approach takes a lot of time, effort, and cash.
You can make amazing product images instantly without ever needing to even see your product.
Yeah, the 2nd choice does sound better. Believe it or not, this is actually extremely simple.
Introducing Place It
Place It was made exactly for this purpose. There are a lot of great features included, but this one is a must have for anyone in print on demand. They allow you to put any image on their thousands of models and product mock ups. This means you can make unlimited product mock ups for all of the merch you want to sell. You'll be able create professional product listings in a matter of minutes. This isn't just for tees either; Rather, they have an extensive library of mock ups for all types of items.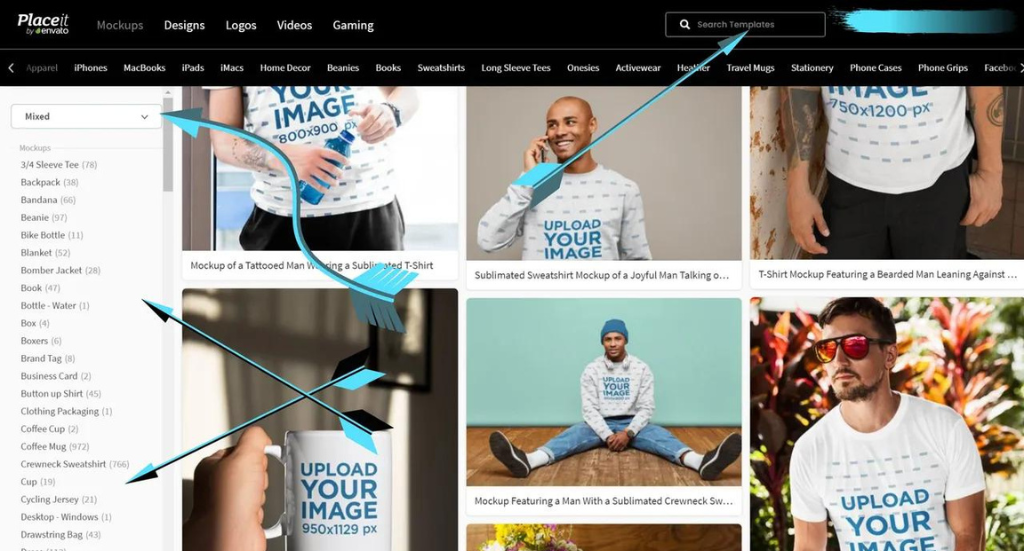 Sorting through it all is easy. They have many options criteria, (pointed to by the arrows on the side), which allow you to narrow down your selection to exactly what you want. The search bar on top will get you the same great results.
This is a game changer for print on demand. You can sell as many products as you want, and they'll actually look legitimate. People will see what looks like an authentic and trust worthy brand when they're on your site, (even though it's just you on a computer).
What Is The difference Between Place It And Free Mockups
Some printing providers, (like Printify and Printful), do give you some free mock ups, but they're not exactly amazing. If you were looking for a shirt with this design, would you buy from a listing with a product image like the one on the left? We didn't think so. Most providers actually recommend going to Place It since there's a big difference between passable and professional. This is one thing that people, new to print on demand, often do badly. Some of them have really well made stores, but they don't get any sales since people realize the brand is fake when they see the bland product images.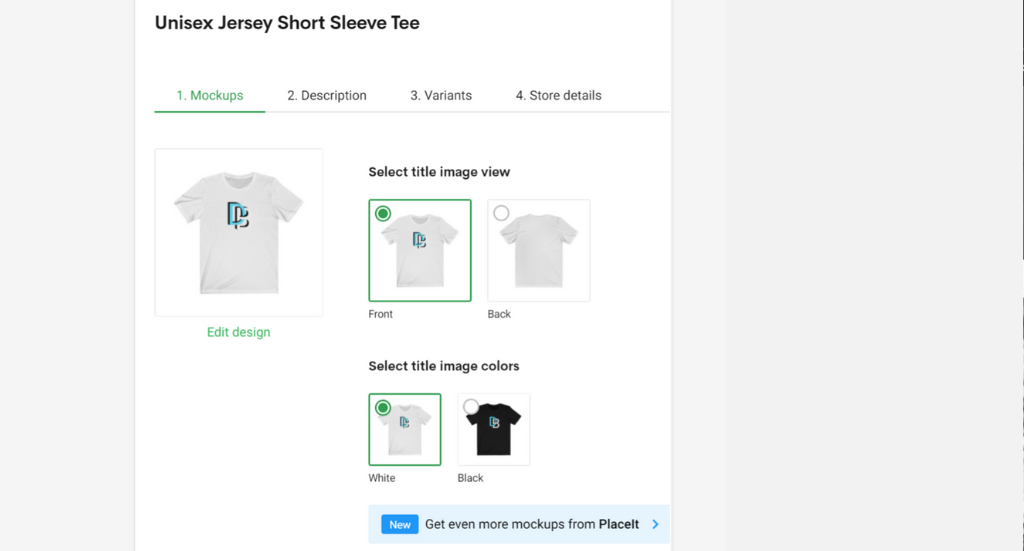 Your printing provider wants you to succeed the most. There's a reason they recommend the service.

To really get full use out of them, you'll need an unlimited subscription, (which is just $15 a month or $100 a year), but there are still some features you can try out for free.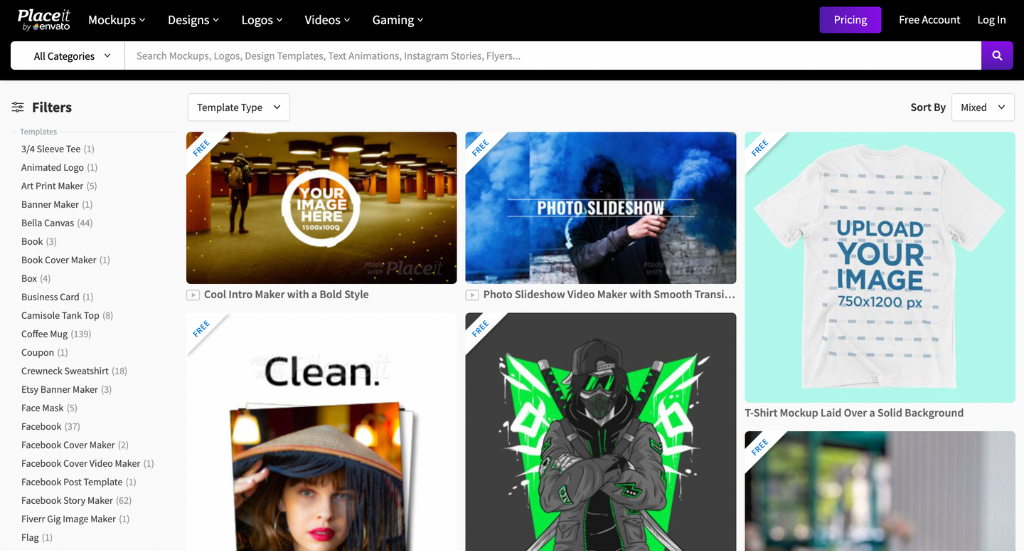 These are the free mock ups that Place It gives. As we discussed above, These work by allowing you to upload an image which they'll put onto the model or object that you selected. This allows you to professionally show off your designs on products which you've never even had to see. There are way more mock ups only available for unlimited subscription users, but this will give you a good feel for the service. Just in case you didn't read this above, the arrows on the side point to their filtering tool. you can use these criteria to narrow down your search for the perfect mock up. The search on top can also be used.
Pre Made Merch Designs
The design tools Place It has are different than Canva's, (which we went through in our print on demand design tools post). They actually have a ton of pre made merch designs, (that you can legally use on all your items commercially), that can be edited really easily however you want.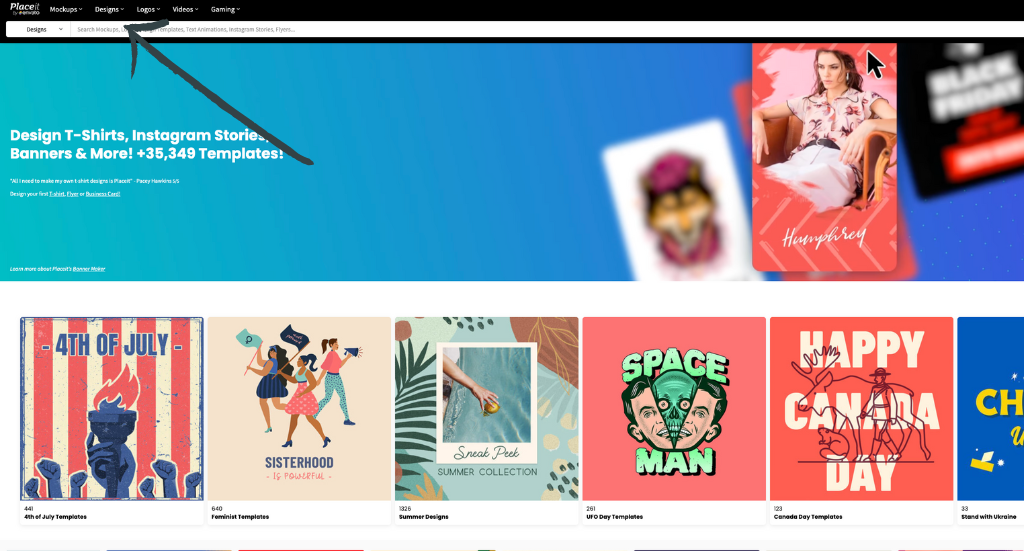 Most of these designs need an unlimited subscription, but once you've downloaded a design, (or anything else on Place It), you can use it for ever. They'll even let you re download anything you did in the past if you stop using an unlimited plan, so don't worry about losing all of your designs.
Built In Video Creator
Most people haven't done any video editing in their life since it's really not easy. Place It has fixed this obstacle,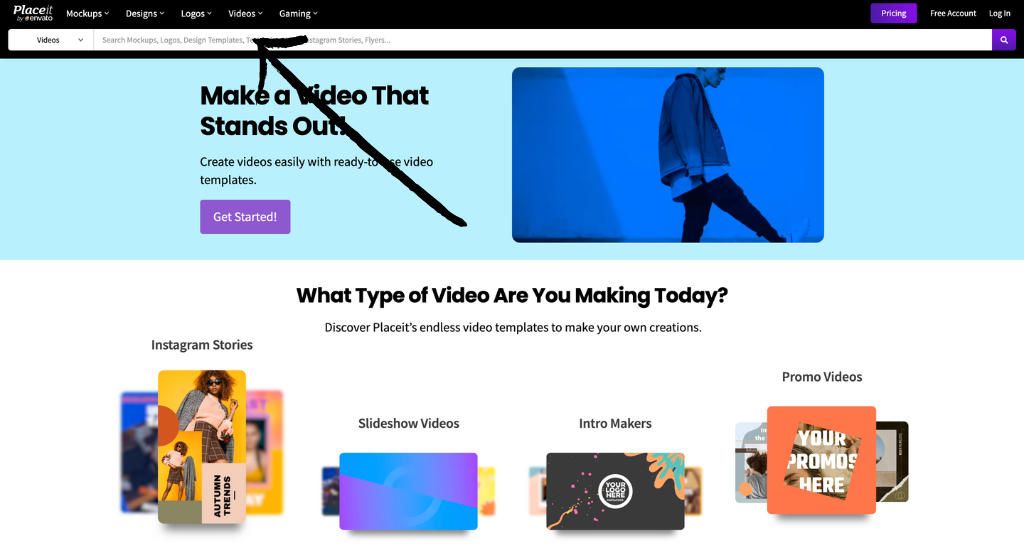 Their templates help you design amazing intros, product demos, and any other footage you need in just a few clicks.
Amazing Logo Creator
The last thing we want to cover is their logo designing tool. Place It's Logo Designer is really amazing.
They have you put in your company name and business type, and they generate almost unlimited logos that you're allowed to use for your business. We've actually use a handful of these for some of our own assets. The colors are interchangeable, so you'll be able to keep your brand's image. You'll need an unlimited membership to download and use your logo, but trying out the tool is free, so check it out.
In conclusion, there's a reason we use Place It for our stores. We still pay for our unlimited membership since it's well worth it. We hope you found what you were looking for.
Here are some important links in case you missed them:
Canva Place It Print On Demand Review And Tutorial